As Seen on TV
Inside Flipboard / October 4, 2011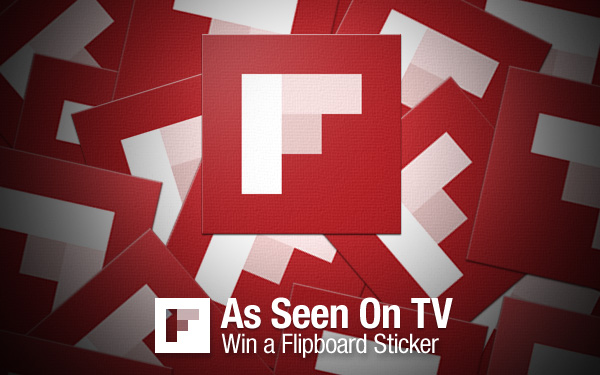 Update: And the Winners Are… We have had such a great response, we're going to double the number of winners. Please join us in congratulating the following 20 lucky winners of our Flipboard sticker giveaway: Facebook: Ashish Malik, Brian DePardo, Aric Becker, Laura Hallberg, Moira Murphy, Terry Stagg, Yvette Fevurly, Steven Mathias, Lee Craven, Chris Munz Twitter: @euclidg, @soccermom224, @catc937092, @DannySkarka, @carrsonn, @SoleShoeMan, @mattpphillips, @jeffus3, @talanb, @Yaaki Thank you all for participating. We love hearing from you. Look for more fun events soon.
Last week, Ashton Kutcher used his personal laptop as a prop in the second episode of his new show, Two and a Half Men. His laptop happens to be decorated with stickers for a few technology startups he invests in, including Flipboard.
Now's your chance to get your own Flipboard sticker to put on your computer, your iPad, your car, or your TV show.
Just visit our Facebook fan page and comment on or share the "As Seen on TV" wall post. You can retweet also this tweet. If you're reading this on Flipboard, just tap the retweet button in the bottom right.
We'll select 10 random people who shared the message on Facebook or Twitter to receive a Flipboard sticker (U.S. residents only).
You can keep up with the latest on Two and a Half Men on Flipboard, too. Tap here to add the show's section, which has been made just for Flipboard with custom layouts that make it easy to flip through the feed's many videos, photos, and tweets.
Finally, if you want to watch Two and a Half Men on TV, it airs on CBS on Monday nights at 9/8c.
Good luck, and enjoy the show!
~ JonV
community@flipboard.com
facebook.com/flipboard
@flipboard